ELEARNING TOOLS FOR PROFESSIONAL DEVELOPMENT 24/7

Choose from thousands of business and technology classes offered via Espyr, lynda.com, and Microsoft IT Academy. These e-learning programs are offered at no cost to UGA employees. Online courses are available 24/7 anywhere you have access to the Internet.
---
ONLINE COURSES AND WEBINARS FROM ESPYR

University System of Georgia's employee assistance program, ESPYR, offers online courses and webinars for all USG employees. Topics include leadership, communication, wellbeing and stress management, achieving personal goals, supervisor resources, and a whole host of others.
Access the ESPYR website for USG employees and click the Training tab to search for and select a course or webinar.
---
LEARNING WITH LYNDA.COM AND T&D RECOMMENDED COURSES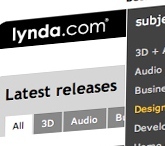 lynda.com© is an online learning resource available to all UGA students and employees and includes thousands of video tutorials, taught by industry experts, perfect for your professional and personal development.

To access lynda.com, login through Central Authentication Services (CAS).

NEW! Training & Development has previewed and curated a variety of relevant professional development courses applicable to the UGA environment. View the list of Training & Development's recommended lynda.com courses.
Questions about learning with lynda.com? Contact training@uga.edu (Subject Line: lynda.com) or 706.542.7062.
---
MICROSOFT IMAGINE ACADEMY (FORMERLY MICROSOFT IT ACADEMY)
Collaboration between EITS, Franklin College, and Human Resources enabled the University of Georgia to join the Microsoft Imagine Academy program (formerly called the Microsoft IT Academy). Academic institutions worldwide look to the Microsoft Imagine Academy program to offer the latest IT education programs for Microsoft technologies. Microsoft Imagine Academy enables faculty, staff, and students to develop their technical skills and if desired prepare for technical certifications.
Learn more about how to access the Microsoft Imagine Academy.
Updated 8.18.2017