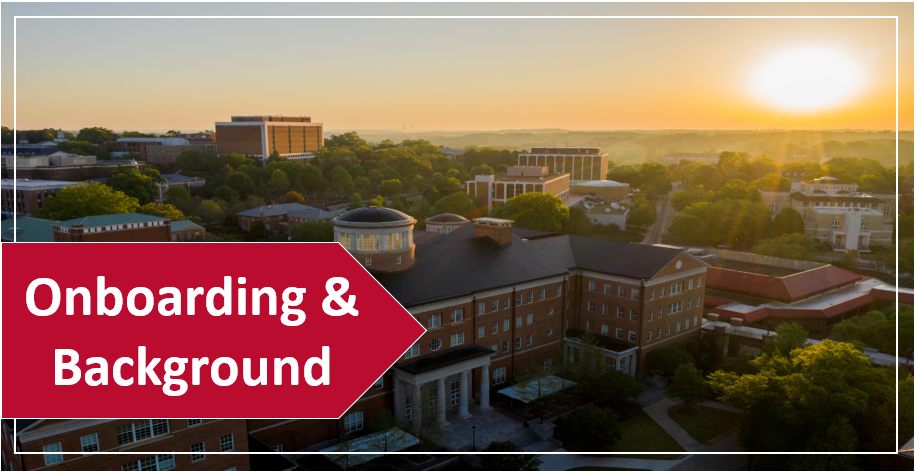 At UGA, we don't just sit still. We take part in what is going on around our city, state, country and the world, and
we are so excited to have you begin your journey as a member of the Bulldog family! Please see the timeline below
for more information on how to complete your hiring steps to becoming a Bulldog!
RESOURCES

The items and links provided throughout this page will help ensure you have completed all the necessary
processes for your employment with UGA. There are also resources and links provided for Supervisors and
Practitioners below.
The New Hire Toolkit is available for all employees to reference during their time at UGA. This document includes helpful information for both brand new and current employees.

ONBOARDING RESOURCES

OneUSG Connect - Employee Self-Service:Set up Direct Deposit & tax forms, submit time & absence, update personal information, and more with ESS.
OneUSG Connect - Benefits: Setup and manage your employee benefits
2022 USG Comparison Guide (PDF): Compare benefits plans
Professional Education Portal:UGA's professional learning portal for new hires and current employees
Retirement Plan Information:Select your Retirement Plan (newly hired Exempt employees only) and learn more
about retirement options for all employees.
Temporary Employees Retirement Plan: For temporary employees, visit our Georgia Defined Contribution Plan (GDCP) page for more information about your retirement options.

ADDITIONAL RESOURCES

Employee Well-Being: Explore comprehensive programs that help you achieve well-being in all the aspects of your life: physical, emotional, financial, and work/life balance.

Equal Opportunity Office: Learn more about EOO, which is responsible for ensuring that UGA complies with all applicable laws and policies regarding discrimination and harassment.
OneSource: The goal of the OneSource website is to serve as a functional resource for faculty and staff that is easy
to use and intuitive to navigate, regardless of your role at the University.
Sustainability in the Workplace: Discover sustainability at UGA and how you can play a role in this important
process.
Time & Absence: Learn how to submit time and absence requests in OneUSG Connect Self-Service.
Tuition Assistance Program (TAP): Learn more about furthering your education while working in a full-time,
benefited position at any USG institution.
UGA Master Calendar: Find out what exciting events are happening across the University.
UGA Policies and Procedures: Policies and procedures that apply to all University of Georgia students, faculty, and
staff are developed and approved through appropriate governance and administrative processes and maintained
by the offices responsible for their implementation.
Workplace Concerns - Faculty & Staff Relations: Find out more about the process for how to handle workplace
concerns.
PRACTITIONER RESOURCES

The links below are for supervisors and practitioners to reference as appropriate.

A supervisor is considered to be any employee who has direct reports. A practitioner is any employee who has access to OneUSG Connect with job duties that involve data entry, data maintenance, etc. for their unit (including Commitment Accounting, Time & Labor, Human Resources, Benefits, Payroll). Practitioners are also referred to as "core users" of the OneUSG Connect system.

FREQUENTLY USED RESOURCES
OneSource Homepage - including links to the OneUSG Financial System
OneSource Service and Support Portal
OneUSG Connect Practitioner Access (VPN Required)
Human Resources Contacts & Unit HR Liaisons
UGA Jobs (direct link to UGA Job Search website)