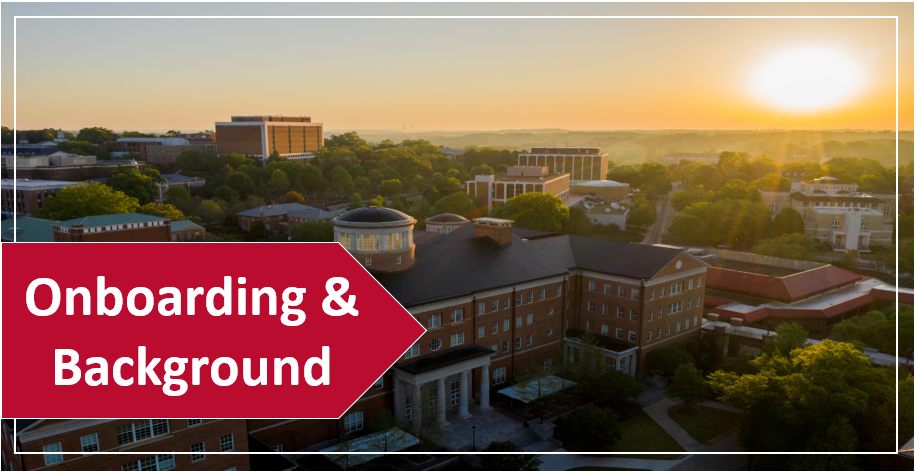 At UGA, we don't just sit still. We take part in what is going on around our city, state, country and the world, and
we are so excited to have you begin your journey as a member of the Bulldog family! Please see the timeline below
for more information on how to complete your hiring steps to becoming a Bulldog!
FACULTY ORIENTATION
Faculty Orientation is led by the Office of Faculty Affairs (OFA).

OFA offers resources, workshops, and cohort programs to support faculty success at each stage of a career. Further information can be found on the New Faculty Resources website.
---
STAFF ORIENTATION
As a new full benefit-eligible staff member, you are invited to attend University Human Resources' virtual orientation experience, where you will receive information regarding your employment with the University.

New Staff Orientation is designed to provide helpful information as you begin your career with UGA. Orientation is hosted by University Human Resources and includes an introduction to employment and benefits at UGA.

If you have any questions about the Orientation process, please contact us.
By attending UGA's New Staff Orientation, you will:
Learn about UGA's history as the birthplace of higher education in America.
Explore a variety of information, including University resources, policies, and more.
Learn about the services and perks available to UGA employees.
Network with new employees across campus.
Receive information regarding great opportunities for staff professional development.
Engage & Learn Initiative

In January 2019, a Presidential Task Force was charged with creating new, robust professional development opportunities to support the growth and development of our staff. This work led to the development of Engage & Learn, a university-wide initiative created to support your learning and development.

Included in this initiative is a newly created orientation and onboarding experience for staff. This multi-part onboarding series begins with an orientation session within your first 30 days of employment and continues with additional sessions offered throughout your first year.
New staff will hear from campus leaders, learn about campus culture, explore what it means to be a leader, and
participate in a creative problem-solving challenge to learn about UGA's commitment to innovation. In addition,
Engage & Learn led to the development of a grant program to support professional development, a new Staff Mentor
Program, a competency model, and resources for managers.
WHEN

At this time, orientation sign-ups are by invitation only.

New staff orientation occurs every other Friday (bi-weekly). Sessions begin at 8:30 a.m.

In order to have an impactful experience, staff are strongly encouraged to attend Orientation within their first month of employment.

An employee cannot attend orientation prior to their hire date.
Registration is required to attend. You should receive an invitation to sign-up from onboard@uga.edu. If you have
not already worked with UGA HR to schedule your Orientation experience or need to reschedule, please contact us.
WHERE
Orientation is currently offered virtually via Zoom.
Your personalized Zoom link will be provided via email along with your sign-up confirmation. If assistance is needed
with equipment for Zoom, please reach out to your department.
Visit the Zoom Download Center for instructions to be prepared for your session. This must be downloaded prior to
your session to participate. Webcam and microphone are preferred whenever possible for optimal experience.
SCHEDULE

Spotlight on Professional Development

Bulldog Belonging & Wellbeing Overview

Mentorship @ UGA Presentation

Auxiliary Services Overview

OneUSG Connect Self Service Review

Benefits and Resources Presentation

Questions or Scheduling an Appointment: Call 706-542-2222 or email onboard@uga.edu for assistance.