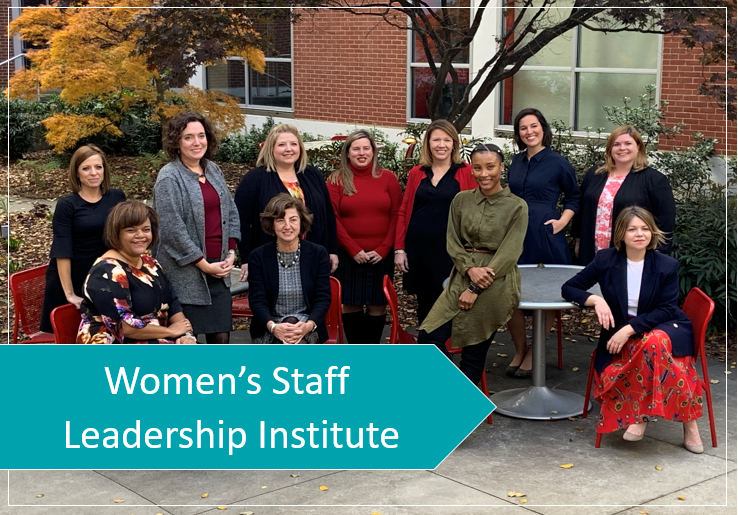 ABOUT THE WOMEN'S STAFF LEADERSHIP INSTITUTE

The University of Georgia is committed to recruiting and retaining the top talent among staff and cultivating an environment where all employees can develop and grow. The Women's Staff Leadership Institute helps ensure the university continues to support and encourage women to flourish, advance, and make their full contributions during their careers at UGA.
The Women's Staff Leadership Institute is aligned with the Women's Leadership Initiative launched in 2015 by President Morehead and the Office of the Provost. The institute is administered through Human Resources' Learning & Development Department with the support of executive sponsor Jennifer L. Frum, Vice President of Public Service and Outreach.
PROGRAM OVERVIEW

The Women's Staff Leadership Institute (WSLI) is an annual program that offers a select group of current University of Georgia employees the opportunity to explore their own leadership identities, develop their careers, and support one another in issues that women leaders face in higher education administration. The WSLI includes:

In-depth conversations with senior administrators at UGA

Panel discussions on the experiences of women in higher education leadership

Workshops on setting goals and overcoming challenges, balancing competing commitments, career development, and financial management at UGA

Hogan® personality assessment and individual coaching for greater workplace effectiveness

Developing and learning with a network of peer mentors and institute alumni


The program runs April - November. Participants will meet monthly to attend workshops and discussions on campus.

Read more about the program, including alumni experiences, in Columns.
NOMINATION & SELECTION PROCESS

Who should participate?


Any UGA employee who has leadership responsibilities and a specific interest in women's leadership development is encouraged to consider this program. Selected participants will either (1) hold the title of assistant director or above, or (2) be responsible for people, large programs, and/or complex projects.


Profiles of participants from previous cohorts are available here: 2017, 2018, 2019, 2020/2021, & 2022

How do I participate?


Eligible employees must be nominated to participate. Nominations may be made by deans, vice presidents, or other senior administrators.


Nomination materials should include:


A nomination letter (no more than 2 pages in length) addressing a brief summary of the candidate's career path to date, evidence of the candidate's contribution to the ideals of higher education and the mission of UGA, and candidate's demonstrated interest in developing themselves and others;

A personal statement (no more than 2 pages in length) written by the candidate addressing why the candidate wants to participate in the Women's Staff Leadership Institute; and

Candidate's current resume or C.V.


All nomination materials should be combined into one PDF document. Use this form to submit your nomination

Please do not include supplemental materials or additional letters of recommendation.

When can I submit my materials?


Nominations for the next cohort will be accepted January 9, 2023 - January 31, 2023. Please combine all nomination materials into one PDF document and submit via the WSLI Nomination Submission Form. An announcement will be made to the university community when the nomination period opens.

All nomination materials must be received by January 31, 2023. Materials cannot be accepted after January 31.

When will I be notified about my selection?


A selection committee will review the nominations and make recommendations to the AVP for Human Resources. Notifications to all nominees will be sent in early March. Selected participants will receive program details and a schedule of events in their notification letter.


Who can I contact with additional questions?


Questions about the program can be directed to learnanddev@uga.edu.