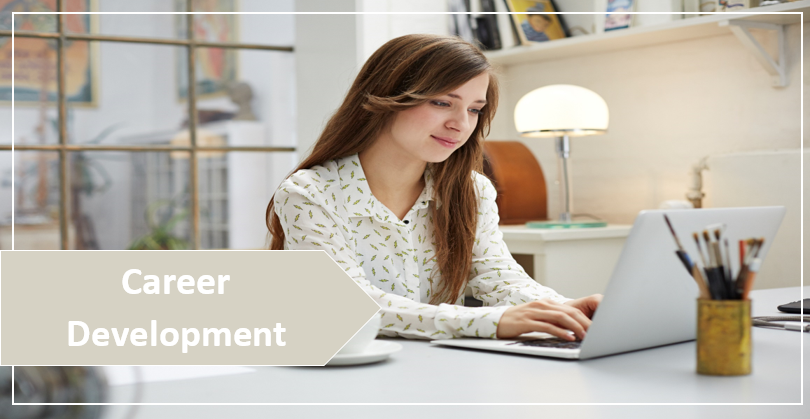 CAREER DEVELOPMENT PLAYLISTS

Playlists include articles, online courses, podcasts and videos related to specific topics. To access our curated career development playlists, log into the Professional Education Portal and search "playlists" for a complete list. Specific career development playlists include:

Career Planning

Interviewing

Networking

Pivoting, Enduring Skills for Lifelong Employability

A list of more Distance-based professional development options, including a LinkedIn Learning Career Development Playlist, can be found online here (PDF).


CAREER EXPLORATION TOOLS

| | |
| --- | --- |
| | The development and expansion of your career is rooted in a unique combination of your interest (those things you enjoy doing and commit time to), personality (qualities that form your distinctive character) and skillsets (combination of learned behaviors and abilities that you may possess or need to develop). Take time for some self-exploration with these tools: |
RESUME & COVER LETTER GUIDES

| | |
| --- | --- |
| | We have several available resources, including: |
NETWORKING

| | |
| --- | --- |
| | Check out these networking resources: |
INTERVIEWING TIPS

| | |
| --- | --- |
| | We can help you prepare for your next interview: |
CAREER CONSULTING SERVICES

* Paused in 2021
Are you up for a promotion? Would you like to make a change or propel your career to the next level? Do you frequently counsel others that are looking to advance in their careers? Prepare for your next opportunity.

We are available to help you with a variety of topics including:

Aligning your work and values
Revitalizing your resume and cover letter
Preparing for an interview
Networking at UGA

Our consultants will help you learn skills and identify tools necessary to pursue positions and opportunities at the University. Once you have drafted a resume/CV and cover letter, a consultant can work with you to tailor your documents and improve your job search correspondence, apply for positions, and prepare for interviews.

Employees that are current UGA students or alumni are also eligible to meet with UGA Career Center consultants and participate in UGA Career Center sponsored programming. Check out these opportunities and more on the UGA Career Center website.

Please note: The Learning & Development team is unable to provide job placement services. Career development consulting enables UGA employees the opportunity to truly flourish in their work so that they can better fulfill the mission of the University.
EARN A DEGREE: TUITION ASSISTANCE PROGRAM

As a university employee, you can benefit from a University of Georgia education. Learn from faculty and staff in the classroom, or take advantage of our online resources.

University employees can earn a degree through the Tuition Assistance Program (TAP). Information, application, deadlines and policy for degree programs. Please review all TAP policies, procedures, and other information available on the University System of Georgia (USG) website.

The USG system-wide TAP application form is available on the USG website. TAP forms should be scanned/emailed to tap@uga.edu.
ENGAGE & LEARN

| | |
| --- | --- |
| | Engage & Learn launched in fall 2020 as a University-wide comprehensive learning and professional development program for staff. This broad-based, multi-year initiative began with a relaunch of the Professional Education Portal (PEP) with new features, courses, and online learning opportunities. Thousands of staff members have taken advantage of professional development courses through registration for live or virtual training classes, on-demand access to online training such as LinkedIn Learning, and use of curated playlists on special topics, all with enhanced mobile compatibility. Additionally, staff have been able to obtain special completion badges and managers have benefitted from access to a custom supervisor dashboard for quick views into their team's professional learning. Learn more about PEP in this 1-minute video. |
STAFF MENTOR PROGRAM

| | |
| --- | --- |
| | In 2019, the presidential task force for staff professional development proposed the UGA Staff Mentor Program to cultivate a mentoring culture and achieve its vision of becoming a thriving learning organization.The UGA Staff Mentor Program is founded on principles of adult learning. Mentor Circle participants will learn about themselves, each other, and the University as they participate in discussions focused on career and personal development topics. Circle members will enter into a partnership and work together to identify and achieve each participant's goals. |